Leisl Gerdes (LG) exudes a vibrant, cheeky, fearless, kind & optimistic spirit. That twinkle in her eye says that 'Life's Good' (LG)! Using Leisl's initials and her courageous character as inspiration, a pendant has been designed to celebrate Leisl's life and our friendship, respect and memory of her.
This pendant has been designed and manufactured locally by Leisl's friends. The back of the pendant is highly polished and suitable for personalised engraving. The bail is large enough to fit many styles of chain (not included).
The Life's Good pendant provides us with a wonderful opportunity to support Leisl's family. All profits from the sale of the pendant will go to the Leisl Gerdes Trust**.
A Life's Good pendant was given to Leisl. On the back she has engraved her legacy to us all…….
'Treasure Every Moment'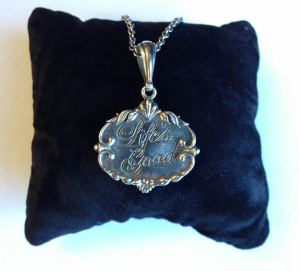 How to receive a pendant: Anybody who would like to make a pledge over $35 will receive a Leisl Gerdes Commemorative pendant. Pledges may be made by sending an email to following address: lee.montyATpandora.net
** The Leisl Gerdes Trust is not a registered charity, and thus there are no tax benefits to making a contribution.